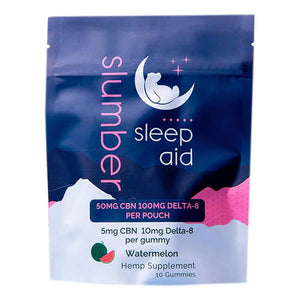 Slumber CBN - Delta 8 Gummies - D8:CBN Watermelon Gummies - 50mg
Slumber CBN - Delta 8 Gummies - D8:CBN Watermelon Gummies - 50mg
Delta 8 Gummies for sleep and relaxation!* Our CBN and Delta-8 gummies are specifically formulated to be fast-acting and are an easy way to help the body relax before and during sleep.* These gummies are a delicious addition to an evening routine. A powerful alternative to OTC sleep aids we have taken our top selling CBN oil and Delta-8 oil and infused it into watermelon gummy. Once you try one of these gummies you will ask yourself how you have slept without it.
Due to Delta-8's (amazing) properties, there are States we are not able to ship to, please check the restrictions below. 
Don't wait any longer to see why Slumber's Gummies has become a nightly staple in many people's homes.
10 extra strength gummies per pouch (we recommend starting with half)
Flavor:  Watermelon
5 mg CBN / 10 mg Delta 8 = 1 Gummy
10 Night Supply, based on Suggested Servings
STRENGTH: 100mg D8, 50mg CBN per pouch
Warning:May cause psychotropic effect. Not intended for use by those under the age of 21.
Does not ship to the following states:AK, AZ, AR, CO, CT, DE, ID, IA, KY, MA, MI, MO, NV, NY, OR, RI, UT, VT, WA
Lab Reports
10 Count Pouch Lab Report
---