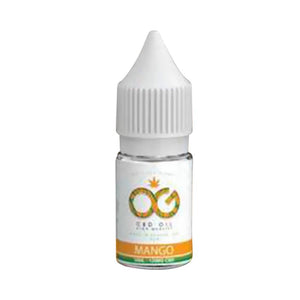 OG Labs - CBD Vape Juice - Mango - 125mg-600mg
You've already made CBD use a part of your lifestyle, why not treat yourself to a tantalizing taste of juicy mango while you simultaneously tackle your woes of body and mind naturally, safely, and legally? OG Labs has specially formulated flavor infused CBD vape liquids to meet your every need!
Yummy mango flavor explodes onto your taste buds in this high-quality CBD vape liquid! Sweet and tropical, you'll enjoy an incredible, amazing experience that CO2 extracted (the purest form of extraction) CBD has to offer... along with a delightful flavor with every inhale and exhale. Compatible with any e-liquid device, OG Labs Mango is all about providing you with an exceptional CBD vaping experience. With zero THC, you can also be sure you won't have any psychoactive effects will using OG Labs CBD Vape to help manage your daily grind.
Each of OG Labs products is made in the United States under the strictest quality guidelines, and all plants are always non-GMO and pesticide-free. Simply add OG Mango CBD Vape to your favorite e-device on its own, or add it to your other favorite e-liquids for a personalized touch. Plus, in potencies ranging from 125mg to 600mg, you can further customize your CBD vape serving and experience.
Lab Reports
Mango - CBD Vape by OG Labs 125mg Lab Report
Mango - CBD Vape by OG Labs 300mg Lab Report
Mango - CBD Vape by OG Labs 600mg Lab Report
---