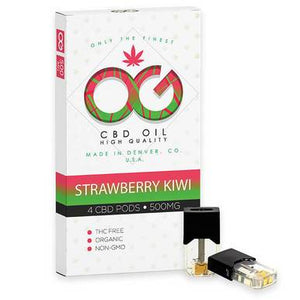 OG Labs - CBD Pod - Strawberry Kiwi - 500mg (4 Pack)
The flavor combo of juicy strawberry and tangy kiwi has been a favorite for decades, and this vape pod provides you with a fantastic burst of both with every puff. Experience the delicious fruity waterfall of OG Labs Strawberry Kiwi CBD Pods!
Inhale and exhale the yummy taste of sun-ripened strawberries and tropical kiwi with this one-of-a-kind CBD vape pod. OG Labs Strawberry Kiwi CBD Pod is designed for an exceptional on-the-go vape, and is compatible with the #1 pod vape device on the market today…hint hint.
With each pack containing 4 pods in pack quantities of one, three, or ten, you'll never have to worry about running out of this delicious, nutritious, never suspicious CBD oil pod. Feeling social? Spread the love and give the extra pods to your buds! Now that's good karma.
Either way, when you order these CBD multi-pack pods, you'll have plenty of all the benefits CBD has to offer to go around.
With CO2 extracted CBD (the cleanest, purest form of plant extraction), this pesticide free, non-GMO CBD never has any THC or nicotine added, so you can rely on never feeling anything but the amazing experience you've come to expect from high-quality, high-potency CBD. Always organic, too!
Lab Reports
---