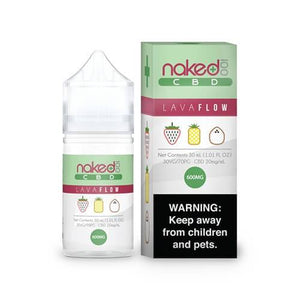 Naked 100 CBD - CBD Vape Juice - Lava Flow - 600mg-1200mg
Naked 100 Lava Flow CBD is a volcanic eruption of taste that perfectly blends fresh strawberries, pineapple, and coconut into concoction of tropical taste. CBD hits a new level of delicious taste with island staples, ripe strawberries, freshly cut pineapples, and smooth coconut.
Available in 600mg -- 30mL bottle (30mg of CBD per 1mL)
Suggested Use:
For Vape Devices:
Vape as you would your favorite E-Liquid for even distribution of CBD throughout your day. Can be used in any vape device.
Specifications:
30mL unicorn bottle
Serving Size: 1mL (20 drops)
Servings Per Container: 30
No THC
Made in USA

600MG
30%VG
70%PG
20mg of CBD/mL

1200MG
20%VG
80%PG
40mg of CBD/mL
Experience the best flavors CBD has to offer, experience Naked 100 CBD.
Lab Reports
Lava Flow - CBD Vape Juice - 600mg by Naked 100 CBD Lab Report
Lava Flow - CBD Vape Juice - 1200mg by Naked 100 CBD Lab Report
---