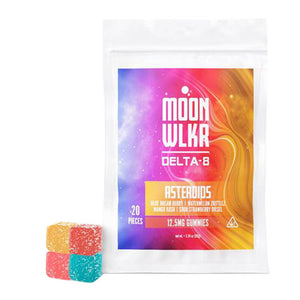 MoonWLKR - Delta 8 Edible - Asteroids Assorted Gummies - 12.5mg
MoonWLKR - Delta 8 Edible - Asteroids Assorted Gummies - 12.5mg
An assorted edible mixture: Blue Dream Berry, Watermelon Zkittles, Mango Kush, Sour Strawberry Diesel. 
Asteroids: Delta-8 THC Product Description
Total Delta-8 THC Content: 250mg
Delta-8 THC Content Per Gummy: 12.5mg
Gummies Per Pack: 20
Ingredients: Sugar, Corn Syrup, Pectin, Sunflower Oil, Water, Flavoring, Sodium Citrate, Sodium Acid Sulfate, Citric Acid, Natural and Artificial Food Coloring, 12.5mg Delta 8 THC, and Plant-Derived Terpenes
We recommended refrigerating your gummies after opening and not storing them in a humid environment as they may mesh together.
Warning
This product is intended for adults 21 and over. Delta-8 THC may cause intoxication. Operating a motor vehicle or heavy machinery after using this product is not advised. This product may cause you to fail a THC drug test. You assume full responsibility for all parts related to your purchase and consumption.
Lab Reports
20ct - 250mg Lab Report
---