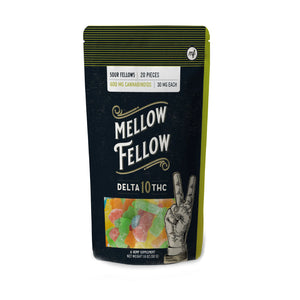 Mellow Fellow - Delta 10 Edible - Sour Fellow Gummies - 30mg
Mellow Fellow - Delta 10 Edible - Sour Fellow Gummies - 30mg
Sour Fellow Gummies are sour and sweet Delta 10 dosed treats. Soft, chewy, and delicious.
Sour Fellow Gummies Per Pack: 20 pcs
Total THC Content: 600mg
∆10 Content Per Gummy: 18mg
∆9 Content Per Gummy: 9mg
CBN (Cannabinol) Content Per Gummy: 3mg
Ingredients: Sugar, Invertsugar, Corn Syrup, Modified Corn Starch, Contains Less Than 2% of Tartaric Acid, Citric Acid, Δ8 & Δ10 THC Distillate (Delta-8 & Delta-10-Tetrahydrocannabinol, From Hemp, Cannabis Sativa), Natural and Artificial Flavor, Yellow 6, Red 40, Yellow 5, Blue 1.
DIRECTIONS FOR USE:
Consume 1 or 2 gummy kids every 4-6 hours
Consult your primary care physician if you have any questions or concerns about consuming Delta 10 edibles. Store in a cool, dry place.
Delta 10 THC is a cannabinoid found in trace amounts of cannabis. Delta 10 can give you a euphoric sense of relief like Delta-9, but it is not nearly as strong.
Warning: May cause psychotropic effect. Not intended for use by those under the age of 21.
---