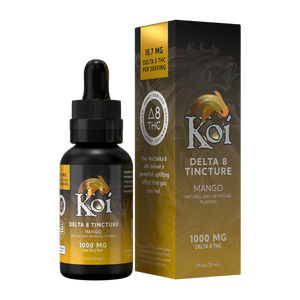 Koi CBD - Delta 8 Tincture - Mango - 1000mg
Koi CBD - Delta 8 Tincture - Mango - 1000mg
Delta-8 THC is a different form of THC that is found within the hemp plant. While Delta-9 is what is responsible for the psychoactive properties of the plant family, Delta-8 is chemically different. Delta-8 delivers a powerful, uplifting effect that you can feel. Users report a highly enjoyable experience, and report that Delta-8 delivers its own benefits – like helping users fall asleep and promoting a healthy appetite.
Our Koi Delta-8 THC Tinctures are packed with flavor and hemp derived Delta-8 THC.
1,000 mg of Delta-8 THC per bottle, 16.7 mg per 0.5 mL serving.

30 mL bottle with graduated dropper for precise measurements.

Delta 8 derived from hemp.
Warning
This product is intended for adults 21 and over. Delta-8 THC may cause intoxication. Operating a motor vehicle or heavy machinery after using this product is not advised. This product may cause you to fail a THC drug test. You assume full responsibility for all parts related to your purchase and consumption
Lab Reports
30ml - 1000mg Lab Report
---