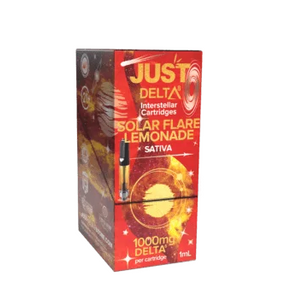 JustDelta - Delta 8 THC Cartridge - Solar Flare Lemonade - 1000mg
JustDelta - Delta 8 THC Cartridge - Solar Flare Lemonade - 1000mg
If you're looking for a pleasant body buzz, why not choose something delicious? Whether it's for honing in on an afternoon project, or relaxing in the evening, JustDelta 1000mg Delta 8 Cartridge is the perfect way to enjoy a chill, legal high.
Delta 8 is a close sibling of the THC we know in marijuana, Delta 9, only it's much more mellow, and best of all, it's completely within the laws of the 2018 Farm Bill. It doesn't have to be summer to enjoy some sweet, lemony goodness, and you don't have to worry about breaking any laws to enjoy an afternoon body high.
Flavors:
Solar Flare Lemonade
-Strain: Sativa
-Delta-8 mg: 1000mg
Requires 510 thread pen
INGREDIENTS:
900mg Delta-8 THC oil, +50mg Botanical terpenes, +50mg Plant lipids.
SUGGESTED USE:
Take 1-4 small puffs every 5-10 minutes. Do not exceed 20 puffs in a 6 hour period.
STORAGE:
store in cool or room temperature and away from sunlight. Try to store upright to prevent leaking.
All users may not react the same to product use. The onset of effects may be experienced at different times.
First time users may experience stronger effects.
DO NOT EXCEED SUGGESTED USE.
*CAUTION: This is not CBD. Keep out of reach of
children. This product is intended for use by healthy
adults age 21 years and over. Consult a healthcare
professional prior to use of delta-8 tetrahydrocannabinol
(Delta-8 THC). Delta-8 THC may be harmful if you are
pregnant, nursing, taking any medication or have a
medical condition. Discontinue use immediately if
adverse reaction occurs and consult your physician.
The Food and Drug Administration has not evaluated
this product for safety or efficacy. There is no current
standardized Delta-8 THC methodology for verifying
content. We make available our product testing reports
on our website and by scanning the QR code on the
packaging. Our Delta-8 THC serving size potencies
are determined by a laboratory. Test results may vary
by laboratory or test method. This product contains less
than 0.3% total delta-9 tetrahydrocannabinol (Delta-9
THC). Drug tests vary in sensitivity, and you may test
positive for Delta-9 THC when taking Delta-8 THC
products. Natural color variations may occur. Amount of
mg / Delta-8 THC may vary by piece and by package.
May cause drowsiness. Do not drive or operate heavy
machinery while taking Delta-8 THC. Delta-8 THC
may cause paranoia & anxiety.
Details:
-21+
-Warning, this product contains THC Delta-8
-Made in the USA
-Lab Tested
-The Florida Hemp Council
-Made with Industrial Hemp
California Prop 65
Warning: This product contains chemicals to cause cancer and birth defects or other reproductive
---