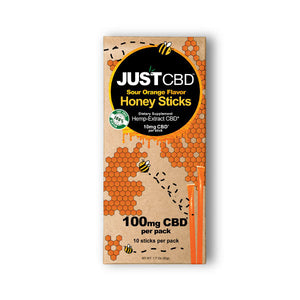 JustCBD - Sour Orange CBD Honey Sticks Pack – 10 Sticks -100mg
JustCBD - Sour Orange CBD Honey Sticks Pack – 10 Sticks -100mg
Each one of these sweet sticks is filled with an infusion of natural honey and CBD, making for a scrumptious, easy to eat treat. Individually packaged, the honey sticks can be tossed in your backpack, purse or lunch box.
An infusion of 10 MG of CBD, boosting benefits like increased relaxation and pain alleviation, combined with all natural honey provide a delicious way to get your daily dose of CBD. Whether taken on the road as a quick snack or enjoyed in a hot tea, our honey sticks make a perfect treat.
10mg each stick 10 sticks per pack
Ingredients: 100% US Grade A Honey, Natural and Artificial Flavors, Citric Acid and/or Malic Acid (for Tartness), Artificial Coloring, FD&C Yellow #5 & 6, Blue #1, Red #3 & 40, Hemp Extract Cannabidiol (CBD*).
Supplement Facts: Serving Size: 1 stick = 1 Tsp (5g), Servings per pack: 10, Approx. 10mg CBD per stick, Calories 15, Calories from Fat 0, % Daily Value*, Total Fat 0g, 0%, Sodium 0mg, 0%, Total Carbohydrate 4g, 2%, Sugars 4g, Protein 0g, Vitamin A, 0%, Vitamin C, 0%, Calcium, 0%, Iron, 0%, *The % Daily Value (DV) are based on a
2,000 calories diet.
Certificate of Analysis
---