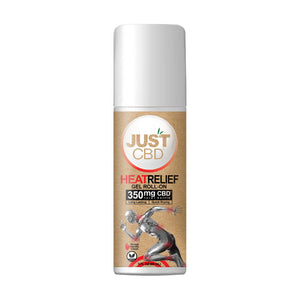 JustCBD - CBD Topical - CBD Heat Relief Roll On Pain Cream
JustCBD - CBD Topical - CBD Heat Relief Roll On Pain Cream
Nothing relaxes the muscles like some good ol' heat, but we don't always have the time for a nice luxurious bath. Luckily, this CBD pain cream combines the therapeutic benefits of natural heat with CBD to loosen and soften the muscles. And to make it that much easier, we packed into a roll-on for the utmost convenience of use. Hit the "pause" button and melt into this blend's heat-generating magic with the help of cinnamon, ginger, and pepper, and feel your muscles go "ahhhh" as the menthol kicks in to create a cooling, soothing effect. And the best part? You'll never have to worry about getting any of it on your hands! Whether your joints are strained and stiff from a day at the office, or overworked from a tough workout, this CBD roll-on gives you the relief you need, fast. This formula is vegan, fast-absorbing, and quick-drying.
Plant-Powered 350mg CBD* HEAT RELIEF GEL ROLL-ON *87% Organic Content, Parabens, Phthalates & Gluten Free.
*Vegan
*Long Lasting
*Quick Drying
*Keeps Hands Clean
Drug Facts: Active Ingredients Natural Menthol 4.0%

Uses: Warming temporary relief to areas that need it most.
Warnings: For external use only. Avoid damaged skin, wounds, eyes, or mucous membranes.  If swallowed, get medical help or contact
a Poison Control Center right away. Do not use if pregnant, nursing or taking any medications.
Suggested Use: Apply a small amount to the affected area with a gentle, circular motion until dry. Use every 4-6 hours or as
needed. 18 years or younger: ask a doctor.
Inactive Ingredients: Hemp Extract Cannabidiol (CBD), Organic Aloe Leaf Juice, Meadow-foam Seed Oil, Menthol Crystals,
Capsicum Fruit Oleoresin, White Camphor Bark Oil, Sweet Basil Leaf Oil, Black Pepper Oil, Roman Chamomile Flower Oil, German
Chamomile Flower Oil, Cinnamon Leaf Oil, Citronella Oil, Eucalyptus Leaf Oil, Helichrysum Flower Oil, Ginger Root Oil, Pink Grapefruit
Peel Oil, Juniper Berry Oil, Lemon-grass Oil, Peppermint Oil, Pine Needle Oil, Ravensara Oil, Rose-mary Leaf Oil, Spearmint Oil, Wild
Oregano Oil, Glycerin, Witch Hazel Water, Organic Alcohol, Phenoxy-ethanol, Carbomer, Triethanolamine,Tetrasodium Glutamate Diacetate.
Caution:
Do not exceed the suggested amount.  This product is intended for use by healthy adults 18 years and over.  Keep out of reach of children.  Cannabidiol
(CBD*) use while pregnant or breastfeeding may be harmful. Consult a healthcare professional prior to use if you are pregnant, nursing, taking any medication or
have any medical condition.  Discontinue use immediately if any adverse reactions occur and consult your physician.  The Food and Drug Administration has not
evaluated this product for safety or efficacy. There is no current dardized CBD* testing methodology for verifying CBD* content.  We make available our product testing
reports, upon which we base the CBD* amount, to our customers, but test results may vary by individual laboratory and / or test method.
The results of our testing are available on our website and by scanning the QR code on the package. This product contains a total delta-9 tetrahydrocannabinol (THC) that does
not exceed 0.3% on a dry-weight basis.  Drug tests vary in sensitivity and you may test positive for THC when taking CBD products. Natural color variations may occur
in this product.  The amount of mg /CBD may vary by dose and by the package.  May cause drowsiness
Certificate of Analysis
---