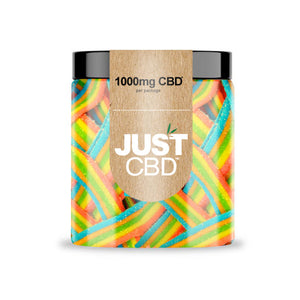 JustCBD - CBD Edible - Rainbow Ribbons - 250mg - 3000mg
JustCBD - CBD Edible - Rainbow Ribbons
Get your daily CBD intake with the best CBD edibles on the market without sacrificing deliciousness. Choose your powerful CBD treats from red, green and other fun colors. If fact, consumers should try all of our CBD gummies and pick some of the different flavors they love the most.
Hemp Infused Gummies | Gelatin Free |
SUPPLEMENT FACTS:
Servings: Approx. 18, Serving Size: 4 pcs. (15g), Approx. 13mg CBD per gummy. Amount per Serving: Calories: 53, Total Fat: 0.4g (1% DV), Saturated Fat: 0g (0% DV), Trans Fat: 0g (0% DV), Cholesterol: 0mg (0% DV), Sodium: 4mg (0% DV), Total Carbohydrate: 12g (4% DV), Dietary Fiber 0g (0% DV) Total Sugars: 9g, Added Sugars: 9g (18% DV), Protein: 2g, Vit. D: (0% DV), Calcium: (0% DV), Iron: (0% DV), Potassium: (0% DV) *Percent daily values based on 2000 calorie diet.
INGREDIENTS:
Sugar, Glucose-Fructose Syrup, Wheat Flour, Dextrose, Malic Acid, Palm Oil, Citric Acid, Artificial Flavor, Turmeric Extract (Color), FD&C Red #40, FD&C Blue #1, Antioxidants (Ascorbic Acid, Tocopherols), Hemp Extract CANNABIDIOL (CBD), COCONUT OIL.
GUMMY FLAVORS:
Blue Raspberry, Tutti Frutti, Strawberry and Green Apple.
CONTAINS:
MANUFACTURING FACILITY MACHINES USES TREE NUTS IN MACHINES.
GELATIN FREE.
Certificate of Analysis
---