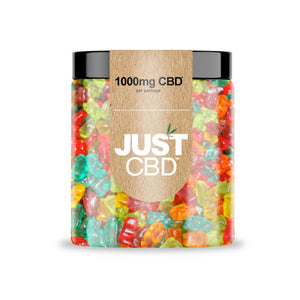 JustCBD - CBD Edible - CBD Gummies - Clear Multi-Colored Bears - 250mg- 3000mg
JustCBD - CBD Edible - CBD Gummies - Clear Multi-Colored Bears
Get your daily intake of CBD with the best CBD edibles on the market without sacrificing deliciousness. Choose your powerful CBD treats from red, green and other fun colors. In fact, consumers should try all of our CBD gummies and pick some of the different flavors they love the most.
Hemp Infused Gummies | Gluten Free | Fat Free | Dairy Free | MSG Free |
SUPPLEMENT FACTS:
Servings: Approx. 25, Serving Size: 4 pcs. (14g), Approx. 10mg CBD per gummy. Amount per Serving: Calories: 44, Total Fat: 0g (0% DV), Saturated Fat: 0g (0% DV), Trans Fat: 0g (0% DV), Cholesterol: 0mg (0% DV), Sodium: 9mg (<1% DV), Total Carbohydrate: 10g (4% DV), Dietary Fiber 0g (0% DV) Total Sugars: 6g, Added Sugars: 6g (12% DV), Protein: <1g, Vit. D: 0mcg (0% DV), Calcium: 2mg (0% DV), Iron: 0mg (0% DV), Potassium: <1mg (0% DV) *Percent daily values based on 2000 calorie diet.
INGREDIENTS:
Corn Syrup (From Corn), Sugar (From Beets), Water, Gelatin, Citric Acid, Natural and Artificial Flavors, Pectin (Derived from Fruit), Vegetable Oil (Coconut, Canola) and Carnauba Leaf Wax (To Prevent Sticking), FD&C Yellow #5, FD&C Red #40, FD&C Yellow #6, FD&C Blue #1, HEMP EXTRACT CANNABIDIOL (CBD).
GUMMY FLAVORS:
Cherry, Pink Grapefruit, Watermelon, Strawberry, Orange, Blue Rasp- berry, Lime, Grape, Green Apple, Mango, Pine- apple & Lemon.
CONTAINS:
MANUFACTURING FACILITY MACHINES USES TREE NUTS IN MACHINES (COCONUTS).NO ARTIFICIAL SWEETENERS, LOW SODIUM, PEANUT FREE.
Certificate of Analysis
---