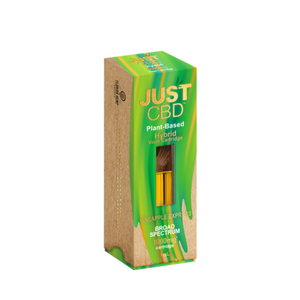 Just CBD - CBD Vape Cartridges - Pineapple Express Hybrid - 1000mg
Just CBD - Disposable CBD Vape - Sour Diesel Sativa - 1000mg
INGREDIENTS:
800 Hemp Derived Cannabidiol (CBD), Terpenes, 1000mg Total Cannabinoids.
FREE OF: Vitamin E, Solvents, Pesticides, PEG, MCT Oil and VG/PG.
CAUTION: This product is intended for use by healthy adults 18 yrs & over. KEEP OUT OF REACH OF CHILDREN. CBD use while pregnant, breastfeeding, taking any medication or have any medical condition may be harmful. Consult a healthcare professional before use. The FDA has not evaluated this product for safety or efficacy. Amount of mg / CBD may vary by dose and by package. This product contains a total delta-9 THC that does not exceed 0.2% and you may test positive for THC when taking CBD products. May cause drowsiness.
California Prop 65
Warning: This product contains chemicals to cause cancer and birth defects or other reproductive.
---