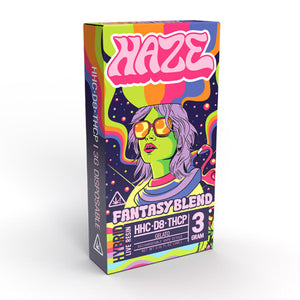 Haze - Fantasy Blend Live Resin - Disposable THC Vape - Gelato – 3 grams - Hybrid
Haze - Fantasy Blend Live Resin - Disposable THC Vape - Gelato – 3 grams - Hybrid
FANTASY BLEND – GELATO
3ML DISPOSABLE VAPE
THCP + D8 + HHC
Unleash your imagination and explore the outer limits of your mind with this fantastical blend. A sweet, fruity flavor with a creamy finish.
TOTAL MIDNIGHT BLEND THC: 2500MG
Are you ready to enter a world of fantasy and imagination? Introducing the HAZE Fantasy Blend, a dreamy and otherworldly hybrid strain live resin vape device that will transport you to a realm of pure wonder. This rechargeable vape device comes packed with 3 grams of a unique blend of HHC, Delta 8, and THCP, all expertly crafted to create a one-of-a-kind high that will leave you feeling euphoric, relaxed, and completely at ease.
The gelato flavor adds a touch of sweetness to the overall experience, making it a delicious and enjoyable way to consume your cannabis. Imagine yourself in a land of ice cream and candy, where every lick and inhale brings a new burst of flavor and aroma. With the Haze Fantasy Blend, every inhale is a spell, every exhale is a magic, every moment is a fantasy.
The HAZE Fantasy Blend is perfect for those looking to escape reality and explore the depths of their imagination. Whether you are looking to unwind after a long day or want to delve into the depths of your mind, this vape device will take you there. The effects of the blend are balanced, providing an uplifting and energizing high that is perfect for creative endeavors, exploring new worlds, or just enjoying a lazy day at home.
So why settle for a mundane and dull cannabis experience when you can have a fantasy and dreamy one? The HAZE Fantasy Blend is the perfect choice for those looking to elevate their cannabis game and explore new realms of imagination. Order yours today and get ready to enter a world of wonder.
INGREDIENTS
THC Fantasy Blend: (HHC) Hexahydrocannabinol / (D8) Delta-8 tetrahydrocannabinol / (D9-THCP) Tetrahydrocannabiphorol, Live Resin, Plant-Derived Terpenes. THC Fantasy Blend Total: 2500 Mg.
SUGGESTED USE
Take 1-2 small puffs not exceeding 3 seconds.
All users may not react the same to product use.
The onset of effects may be experienced at different times.
First time users may experience stronger effects. DO NOT EXCEED SUGGESTED USE.
STORAGE
Store at room (or cool) temperature and away from sunlight. Try to store upright to prevent leaking.
CAUTION
KEEP OUT OF REACH OF CHILDREN. THIS IS A HEMP-DERIVED PRODUCT. NOT INTENDED FOR INGESTION – DO NOT EAT. This product is intended for use by healthy adults age 21 years & older. Consult a healthcare professional prior to use of THC Twilight Blend: (THCP) Tetrahydrocannabiphorol / (HHC) Hexahydrocannabinol / (D8) Delta-8 tetrahydrocannabinol / (CBN) Cannabinol. THC Twilight Blend may be harmful if you are pregnant, nursing, taking any medication or have a medical condition. Discontinue use immediately if adverse reaction occurs and consult your physician. The FDA has not evaluated this product for safety or efficacy. As required by Florida state law, THC Twilight Blend potency is verified by an independent third party lab. The results of the independent third party lab tests are available to you on our website and by scanning the QR code on the package. There is no current standardized methodology for verifying THC Twilight Blend content therefore test results may vary by individual laboratory and/or test method. This product contains less than 0.3% total delta-9 tetrahydrocannabinol (Delta-9 THC). Drug tests vary in sensitivity, and you may test positive for Delta-9 THC when taking THC Twilight Blend products. Over time color variations may occur in this product. The amount (mg) of THC Twilight Blend may vary by dose and by packaging. If THC Twilight Blend is used beyond the expiration date, potency may decrease. May cause drowsiness. Do not drive or operate heavy machinery while taking THC Twilight Blend. THC Twilight Blend has pure concentrated cannabinoids which can be harsh on the throat if misused. Inexperienced consumers new to concentrated vape products may encounter throat discomfort if the product is inhaled in excess.
---