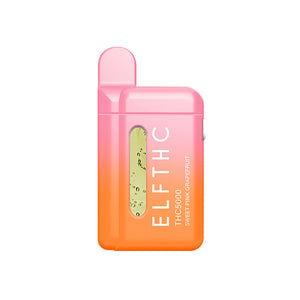 ELF THC - THC Disposable Vape Pod - Sweet Pink Grapefruit – Avarian Blend - Hybrid/Sativa
ELF THC - THC Disposable Vape Pod - Strawberry Mango Haze – Noldor Blend - Hybrid/Sativa
Experience the fruity burst of tangy pink grapefruit infused with the uplifting energy of Avarian sativa with our Sweet Pink Grapefruit – Avarian Blend disposable vape. Our carefully crafted blend delivers a balanced and invigorating experience, perfect for a daytime pick-me-up or a quick hit on the go.
Each disposable vape is filled with premium quality distillate that delivers a smooth and consistent draw, allowing you to enjoy the rich and complex flavor profile with ease. With a hybrid sativa profile, this vape offers a stimulating and energizing high that is ideal for creativity, productivity, and socializing.
Our sleek and portable disposable vapes are made with high-quality materials and offer a hassle-free vaping experience. Simply inhale and savor the delicious flavors and uplifting effects of our Sweet Pink Grapefruit – Avarian Blend disposable vape.
Strain: Hybrid/Sativa
Ingredients: HHC, HHCP, Terpenes.
Parameters: 38.5×16.0x83mm
Device Capacity: 5mL
Battery Capacity: 380mah
Element: Ceramic Coil
Rechargeable: USB-C
Instructions
Click button five times to turn on/off.
Suggested Use
Take 1-2 small puffs not exceeding 3 seconds. All users may not react the same to product use. The onset of effects may be experienced at different times. First-time users may experience stronger effects. Do not exceed the suggested use.
Storage
Store at room (or cool) temperature and away from sunlight. Try to store upright to prevent leaking.
CAUTION: KEEP OUT OF REACH OF CHILDREN. THIS IS A HEMP-DERIVED PRODUCT. This product is intended for use by healthy adults age 21 years & older. Consult a healthcare professional prior to use of delta-8 tetrahydrocannabinol (Delta-8) THC. Delta-8 THC may be harmful if you are pregnant, nursing or are taking any medication or have a medical condition. Discontinue use immediately if adverse reaction occurs and consult your physician. The FDA has not evaluated this product for safety or efficacy. There is no current standardized methodology for verifying Delta-8 THC content. As required by Florida State Law, Delta-8 THC potency is verified by an independent third-party lab. The results of the independent third-party lab tests are available to you on our website and by scanning the QR code on the package. Test results may vary by individual laboratory and/or test method. This product contains less than 0.3% total delta-9 tetrahydrocannabinol (Delta-9 THC). Drug tests vary in sensitivity, and you may test positive for Delta-9 THC when taking Delta-8 THC products. Over time color variations may occur in this product. The amount (mg) of Delta-8 THC may vary by dose and by packaging. If Delta-8 THC is used beyond the expiration date, potency may decrease. May cause drowsiness. Do not drive or operate heavy machinery while taking Delta-8 THC. This product is not intended to diagnose, treat, cure, or prevent any disease. Food supplements should not be used as a substitute for a varied diet.
---