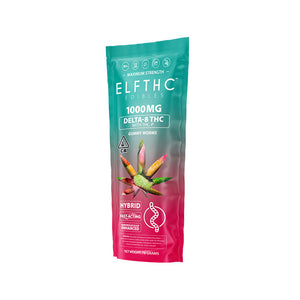 ELF THC - Delta 8 THC + THCP - Gummy Worms Edibles – 1000MG
ELF THC - Delta 8 THC + THCP - Gummy Worms Edibles – 1000MG
ELF THC Delta 8 + THCP Gummy Worms are the ideal choice for those who want to enjoy the benefits of both Delta 8 and THCP cannabinoids in a tasty and convenient form. Each gummy worm contains 25mg of Delta 8 and 5mg of THCP, 1000mg per package.
These gummies are high-quality and carefully crafted to deliver a balanced, euphoric high that uplifts and relaxes.
The hybrid strain in these gummies provides uplifting and calming effects, making them suitable for use any time of day. Whether you want to chill after a long day or boost your mood and creativity, these gummies are perfect.
ELF THC Delta 8 + THCP Gummy Worms are also easy to dose and consume, making them an excellent option for experienced and novice cannabis users. They come in a resealable package that keeps them fresh and easy to store.
If you want a delicious and potent edible experience, our Delta 8 + THCP Gummy Worms are perfect! Try them today and experience the benefits of these two concentrated cannabinoids in one tasty package.
Serving Size: 1 Gummy Worm
Delta-8 THC per Serving: 55mg
Ingredients: Corn Syrup, Sugar, Apple from Concentrate, Corn Starch, Beet Gelatin, Citric Acid, Tartaric Acid, Malic Acid, Colors (Titanium Dioxide, Red 40, Yellow 5, Blue 1, Yellow 6,) Artificial Flavors, THC-P. *DV are based on a 2,000 calorie diet.
May Contain: Soy Eggs.
Suggested Use: For First Timers use take try 25mg. After take 1-3 pieces as needed.
KEEP AWAY FROM MINORS AND PETS.
---