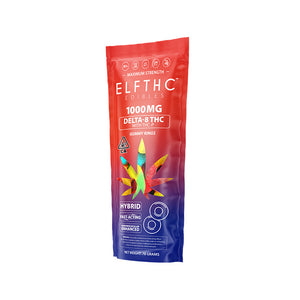 ELF THC - Delta 8 THC + THCP - Gummy Rings Edibles – 1000MG
ELF THC - Delta 8 THC + THCP - 
Gummy Rings Edibles – 1000MG
ELF THC Delta 8 + THCP Gummy Rings Edibles are the perfect way to indulge in a potent and enjoyable experience. Each gummy contains a total of 1000mg of a hybrid blend of Delta 8 and THCP, two powerful cannabinoids known for their uplifting and relaxing effects.
Crafted with care and precision, our gummies are made with all-natural ingredients and are free from any artificial flavors or colors. Each package contains an assortment of delicious fruit-flavored gummy rings, making it easy to find your favorite flavor.
Whether you're looking for a way to unwind after a long day, or just want to add a little extra relaxation to your routine, our Delta 8 + THCP Gummy Rings Edibles are the perfect choice. With their potent effects and delicious taste, these gummies are sure to become your new favorite method to relish the benefits of Delta 8 and THCP.
Serving Size: 1 Gummy Ring
Delta-8 THC per Serving: 83mg
Ingredients: Corn Syrup, Sugar Gelatin, Lactic Acid, Citric Acid, Malic Acid, Fumari Acid, Pectin Artificial Flavors and Colors(FD&C Red 40,Yellow 5, FD&C Red 3, FD&C Blue 1, Titanium Oxide.), THC-P. *DV are based on a 2,000 calorie diet.
May Contain: Soy Eggs.
Suggested Use: For First Timers use take try 25mg. After take 1-3 pieces as needed.
KEEP AWAY FROM MINORS AND PETS.
---