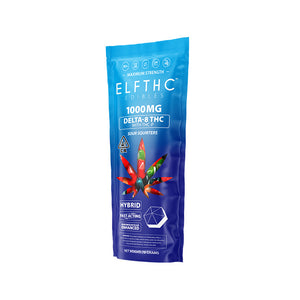 D8 ELF + THCP - Sour Squirters - THC Edibles – 1000MG
D8 ELF + THCP - Sour Squirters - THC Edibles – 1000MG


Are you looking for a refreshed and exciting method to relish the benefits of Delta 8 and THCP? Look no further than our Delta 8 + THCP Sour Squirters Edibles – 1000MG-Hybrid! These tasty treats offer the perfect blend of cannabinoids, with 500mg of Delta 8 and 500mg of THCP in every bag.
Each candy is bursting with a sour, fruity flavor that will tantalize your taste buds while delivering the benefits of these potent cannabinoids. Delta 8 is known for its calming, relaxing effects, while THCP has been found to have even stronger psychoactive properties than THC.
This hybrid blend of cannabinoids is the perfect choice for anyone looking for a balanced, euphoric experience. Whether you are looking to chill after a long day or just want to relax and enjoy a good time with friends, our Delta 8 + THCP Sour Squirters Edibles – 1000MG-Hybrid are the perfect choice.
So why wait? Order your bag today and experience the ultimate in cannabinoid-infused candy! Each bag contains 20 pieces, with 50mg of Delta 8 and 50mg of THCP in each piece, so you can easily customize your dosage to suit your needs.
Serving Size: 1 Sour Squirters
Delta-8 THC per Serving: 55mg
Ingredients: Corn Syrup, Sugar, Apple Juice Concentrate, Gelatin, Modified Food Starch (Corn), Ascorbic Acid (Vitamin C), Sodium Citrate, Coconut Oil, Natural & Artificial Flavors, Fruit & Vegetable Juices added for Color(Black Carrot, Purple Carrot, Blueberry,) Turmeric (Color), Spirulina Extract (Color), Beta-Carotene (Color), Carnauba Wax, Cherry Juice Concentrate, Lemon Juice Concentrate, Grape Juice Concentrate, THC-P.
*DV are based on a 2,000 calorie diet.
May Contain: Soy Eggs.
Suggested Use: For First Timers use take try 25mg. After take 1-3 pieces as needed.
KEEP AWAY FROM MINORS AND PETS.
---