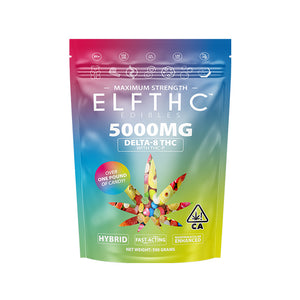 D8 ELF + THCP Party Pack Edibles – 5000MG
D8 ELF + THCP Party Pack Edibles – 5000MG


If you are serious about getting ELF'Ed UP then this is the party pack for you! Over one pound of delicious mixed candy, coated in our proprietary max strength blend of Delta- 8 and THC- P. THC-P (33x stronger affinity for CB1 receptors than THC). 5000mg total of THC content means your party will last and last.
100% Authentic – 100 % ELF
Included in every Party Pack:
Crunch Cluster 33 mg per gummy
Gushing Candy 55 mg per gummy
White Belts 33 mg per gummy
Gummy Bears 33 mg per gummy
Gummy Rings 83 mg per gummy
Gummy Worm 55mg per gummy
Hybrid / Fast Acting / Nanomolecular Enhanced.
Serving Size: 1-3 pieces as needed.
The D8 ELF+ THCP Party Pack Edibles are the ultimate way to enhance your cannabis experience. Infused with 5000MG of maximum strength hybrid THC, these delicious treats pack a serious punch. Looking to chill after a long day or celebrate with friends, these edibles are the perfect addition to any occasion.
Crafted using only the finest ingredients, these edibles deliver a powerful and long-lasting high that's perfect for both experienced and novice cannabis enthusiasts. The hybrid strain offers a well-balanced high that's both uplifting and relaxing, making it ideal for socializing or just kicking back and relaxing.
With the D8 ELF+ THCP Party Pack Edibles, you'll get a full 5000MG of THC per package, ensuring that you'll have plenty to share with friends. And with each piece containing a precise dose of THC, you can easily control your intake and ensure a consistent experience every time.
So why settle for ordinary cannabis products when you can elevate your experience with the D8 ELF+ THCP Party Pack Edibles? Try them today and discover a new level of enjoyment with every bite.
Suggested Use: For First Timers use take try 25mg. After take 1-3 pieces as needed.
KEEP AWAY FROM MINORS AND PETS.
---