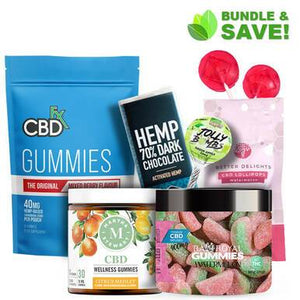 CBD Snacks Bundle
CBD Snack Bundle
If you love CBD Snacks and saving money, then you're going to love our CBD Snack Bundle. This bundle includes a variety of top-selling snacks that are sure to make your mouth water. Looking to chomp chow down on some delicious edibles? Then this is the CBD bundle for you!
Includes:
1 x Creating Better Days - CBD Edible - Peace Pops - Mellow Watermelon (2pc - 25mg) 
1 x Martha Stewart - CBD Edible - Citrus Medley Gummies (30 Count - 300mg)
1 x RA Royal CBD - CBD Edible - Watermelon Gummies (30 Count - 300mg) 
1 x Kat's Naturals - Hemp Edible - Dark Chocolate Hemp Bar (Single Bar - 12 Servings per Bar)
1 x CBDfx - CBD Edible - Broad Spectrum Original Mixed Berries Gummies (8ct Pouch) 
1 x Hemp Bombs - CBD Edible - Jolly Lollipops Assorted (24 Pack Assorted Flavors) 
This tasty bundle has some of the most delicious CBD Snacks on the planet. From delicious Creating Better Days Peace Pops to CBDfx Broad Spectrum Mixed Berries Gummies, this bundle is sure to make your taste buds dance with joy. 
We carefully selected the products in this bundle to help you incentivize your CBD use. When it comes to cannabidiol, consistency is the key to success. If your CBD is absolutely delicious, you might forget your daily serving. Fortunately, with a bundle of products this delicious, it'd be nearly impossible to forget your CBD! 
If you're interested in saving money on delicious CBD,
There's no better choice than the CBD Snack Bundle from CBD.co!
Certificate of Analysis
Kat's Naturals Chocolate Lab Report
Creating Better Days Peace Pops Lab Report
CBDfx Original Gummies Lab Report
RA Royal Gummies Lab Report
Martha Stewart Gummies Lab Report
Hemp Bombs Lollipops Lab Report
---