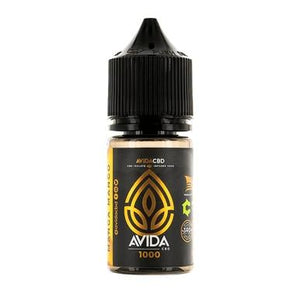 Avida CBD - CBD Vape - Manga Mango - 250mg-1000mg
With your first inhale you'll discover why Manga Mango is becoming one of our most raved about CBD vape juices. Made to perfection by our award-winning flavorist, with each draw you'll experience the taste of juicy Honey Mangos layered with tangy sweet Alfonso Mangos.
Manga Mango is made with ingredients so tasty, it's practically paradise in a bottle. Experience this masterpiece today.
Avida Core CBD Isolate – Maximum Purity Pharmaceutical Grade CBD.
THC FREE – Non-Psychoactive
Non-GMO
3rd Party Lab Tested – Tested for purity and consistency.
Graduated Dropper – Simple to use for accurate dosages.
Servings per container – 30 Full Droppers.
AVIDA CBD Vape Bottle Size: 30ml
Ingredients:
Avida Core CBD Isolate (HEMP Derived), Food Grade Vegetable Glycerin, Food Grade Propylene Glycol, Natural & Artificial Flavorings.
Storage
Keep in a cool dry area is recommended.
Suggested Use:
Vape just as you would vape you favorite E-liquid
Can be vaped in a Tank or Dripper
No special wattage necessary to vape
Concentration Per (1) 250mg Dropper
8.5mg of CBD in 1mL (1ml = 1 Full Dropper)
Approximately 0.42mg of CBD per Drop
Concentration Per (1) 500mg Dropper
17mg of CBD in 1mL (1ml = 1 Full Dropper)
Approximately 0.85mg of CBD per Drop
Concentration Per (1) 1000mg Dropper
34mg of CBD in 1mL (1ml = 1 Full Dropper)
Approximately 1.7mg of CBD per Drop
Lab Reports
250mg Lab Report
500mg Lab Report
1000mg Lab Report
---